What are Reading Levels and why should you care?
Biblionasium is dedicated not only to encouraging your child to read, but also to making him or her a better reader.
If a book is too hard, your child becomes frustrated and discouraged; a book that's too easy is boring. Knowing your child's Reading Level is key to matching him or her to the most appropriate yet, challenging books. The best way to grow as a reader is by reading text that's not too hard and not too easy, or what teachers call the "independent" reading level. That's why we ask about Reading Levels.
It is important to note that a wide range of reading ability exists within any grade or age group. A Reading Level assessment simply tells teachers and parents where the child is in terms of reading comprehension and potential, and provides an additional, more specific measure of the level of book difficulty that will benefit your child.
Conversely, there are many books whose "content" may be appropriate for a nine year old, but whose text complexity and vocabulary level might not. That is where "Text that fits" becomes important.
What is "Text that Fits?"
Books can be like sneakers – the fit matters. A shoe salesman doesn't offer you an "age 9 or grade 4" basketball shoe; there's no such thing. Rather, he measures your kid's foot to find his individual size.
Unfortunately, some reading lists recommend "age 9, grade 4" books. But what if that child's reading ability is far higher than the "average" student his age? Or maybe he's not quite reading on a fourth-grade level yet. Like the boy's age-9 basketball shoe, the text does not necessarily fit the student.
Linking the right book to the right child helps ensure that all-important fit. Content, reader interest and book design all play a part. The Reading Level provides a supplemental measurement that considers the individual child. With this information, parents and teachers are able to help choose well-fitting books that give the reader just the right amount of challenge.
How do I find out about my child's Reading Level?
Reading Level assessments are usually determined at your child's school. Among the more popular systems for reading assessment are The Lexile® Framework for Reading, Fountas & Pinnell, Reading Recovery, and DRA. Usually Reading Levels are reported on a student's report card. If you don't know your child's reading level, you can ask the teacher.
How can I find a book's Reading Level on Biblionasium?
You can lookup a book's Reading Level by simply searching for the title from our Search field. We have partnered with MetaMetrics®, developer of the widely adopted Lexile® Framework for Reading, to bring you the Lexile® text measure of tens of thousands of children's books on our site*.
The Lexile® measure is automatically displayed, after the book title and author information, and is represented as a number followed by an "L" (for example, 1000L). It describes the book's reading demand or difficulty. You can also see that information on your bookshelf. Simply select a book and go to the "Reading Level" tab.
What is the Lexile® Framework for Reading?
Unlike other measurement systems, the Lexile Framework determines reading ability based on actual assessments, rather than generalized age or grade levels. Domestically and internationally recognized as the standard for matching readers with texts, tens of millions of students worldwide receive Lexile measures that help them find targeted material from the more than 400 million articles, books and websites that have been measured. Today, nearly half of the U.S. state education agencies have linked their statewide assessments to the Lexile scale. The use of Lexile measures also extends globally with tens of millions of individuals in more than 165 countries.
What is the relationship between grade equivalents and Lexile® measures?
There is no direct correspondence of a specific Lexile® measure to a specific grade level. Within any classroom or grade, there will be a range of readers and a range of reading materials. For example, in a fourth-grade classroom there will be some readers who are ahead of the typical reader (about 250L above) and some readers who are behind the typical reader (about 250L below). To say that some books are "just right" for fourth graders assumes that all fourth graders are reading at the same level. And we know that just doesn't fit.
Grade equivalent scores should never be interpreted literally, but rather as rough estimates of grade level performance.
Typical Reader Measures, by Grade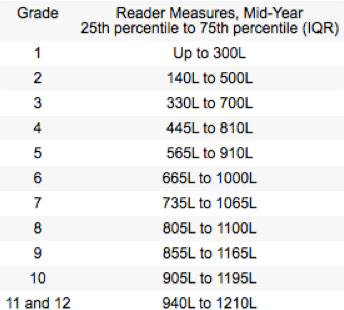 Notice that there is considerable overlap between the grades. This is typical of student reading levels and books published for each grade. It is important to note that the Lexile® measure of a book refers to its text difficulty only. A Lexile® measure does not address the content or quality of the book. It is always a good idea to preview materials prior to selecting them for a your child.
What is the relationship between Lexile® measures and other Reading Systems?
There currently is no scientific research to confirm these correlations, however, the following chart shows approximate conversions between some of the more popular standards, including Fountas & Pinnell, DRA, and Reading Recovery leveling systems. This is not an official correlation but rather an approximation. While text complexity tools share some commonalities, there are also distinct differences.
What if I don't know my child's Reading Level or Lexile® measure?
Don't worry; you don't need to know your child's reading level for you and your child to be a part of Biblionasium. Teacher input, our wide selection of books and peer interaction opportunities will keep your young reader moving forward. You also have the ability to see what level books your child is enjoying and reading, and whether he is moving ahead in his choices over time.
A general guideline is that books at the appropriate reading level for most students range from 100L below the Lexile® measure to 50L above it. If your child's approximate Lexile® measure is 1000L, then his or her Lexile® range would be 900L–1050L. Books within this range will entertain readers while challenging them to build skills.
* Note: While the Lexile® Book Database has information for tens of thousands of fiction and nonfictions titles, occasionally there will be a book or a version of a book that does not have a Lexile® text measure.
For more information about Lexile® please visit their website at www.Lexile.com